VeryVery Diaper Review: Eco-Friendly Hype or Genuine Comfort?
At a Glance
If you're looking for a diaper that will provide unmatched absorbency from the newborn to toddler stage, I recommend VeryVery. This premium brand provides an eco-friendly diaper that's gentle on sensitive skin and offers an extremely soft feel while also doing an incredible job of protecting against daytime blowouts and overnight leaks. Choosing VeryVery has given me the peace of mind that I've made a sustainable choice while also keeping my son dry and comfortable, even on our busiest days.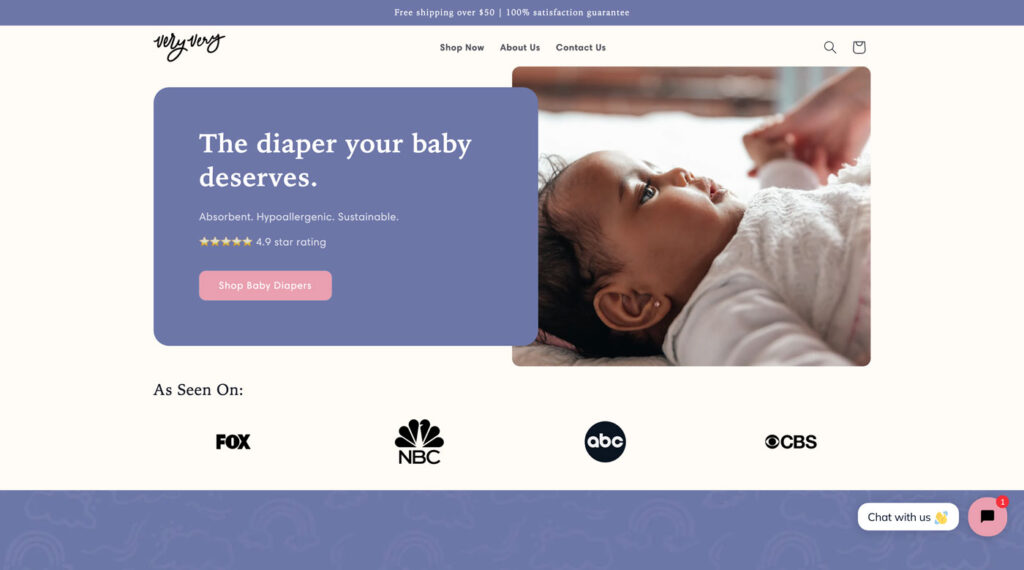 Pros
Incredibly absorbent
Made from soft, premium materials
More eco-friendly than most disposables
Gentle on sensitive skin
Free shipping
Cons
Not sold in stores
Not available in large sizes or training pants
More premium price point
An Introduction to VeryVery Diapers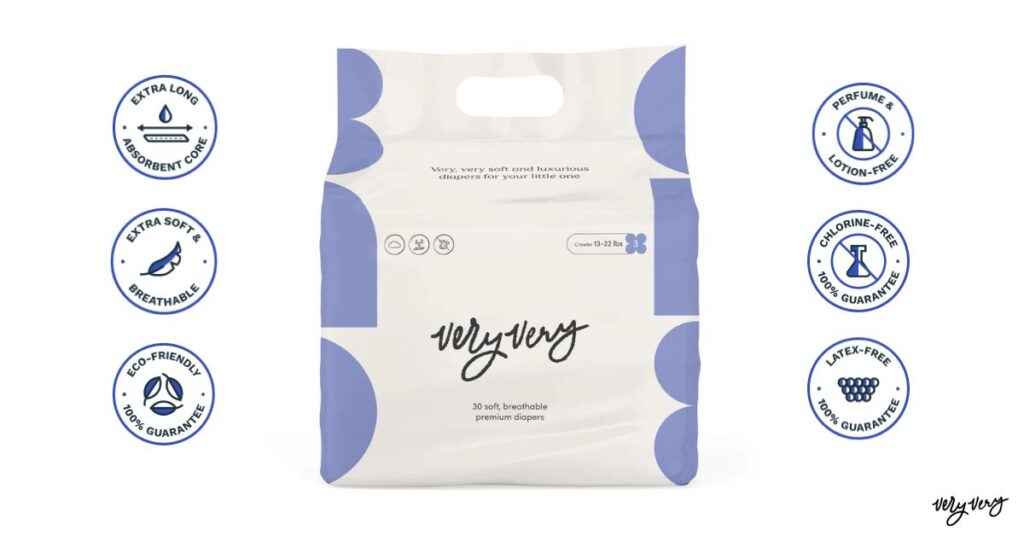 Although the concept of diapers seems simple, it's not easy to find a product that manages to be absorbent and highly leak-resistant while also using soft, hypoallergenic, and eco-friendly materials.
That's why I've been so impressed with how well VeryVery diapers have worked for my son. Since we began using VeryVery when he was a newborn, every size we've tried has fitted him snugly and securely without being too tight. We've had no blowouts and hardly any leaks, which have made our days (and nights) a lot less stressful.
My son's skin has stayed healthy and irritation-free throughout his infancy thanks to breathable, moisture-wicking materials that always keep him dry. I feel especially good putting him in VeryVery diapers, knowing they are hypoallergenic and free from perfumes, lotions, latex, and chlorine, in addition to being pillowy soft.
With VeryVery, I can rest easy knowing that my son is wearing one of the gentlest and most absorbent diapers on the market. I also feel better about the environmental impact of what's in our diaper pail, as VeryVery diapers are manufactured with reusable energy and contain sustainable, partly recycled materials.
Although you won't find VeryVery diapers in stores, it's easy to get these amazing diapers delivered to your door.
VeryVery vs. the Competition
With so many diapers on the market, it can feel impossible to differentiate between them. I've put together the criteria I used when choosing a diaper brand to show you how VeryVery matches up to some of its most popular competitors.
(In this brand comparison chart, 5 is the highest possible score for each metric, while 1 is the lowest score).
| | | | | |
| --- | --- | --- | --- | --- |
| | VeryVery | Huggies | Hello Bello | Coterie |
| Good fit | 5 | 4 | 4 | 5 |
| Highly absorbent | 5 | 3 | 3 | 4 |
| Hypoallergenic and additive-free | 5 | 2 | 4 | 5 |
| Cute patterns | 4 | 4 | 4 | 2 |
| Soft feel | 5 | 3 | 4 | 5 |
| Eco-friendly | 5 | 2 | 3 | 3 |
| Good value | 5 | 4 | 3 | 3 |
| Established brand | 1 | 5 | 2 | 2 |
| Extra leak protection | 5 | 4 | 2 | 4 |
| Budget-friendly | 1 | 4 | 2 | 1 |
| Elasticity | 4 | 3 | 3 | 4 |
| Easy to find in stores and online | 2 | 5 | 3 | 3 |
| Total Score | 47 | 42 | 37 | 41 |
| Bottom Line | Gentle on sensitive skin and made from premium, sustainable materials with no unwanted additives, VeryVery's luxury diapers offer maximum absorbency and leak protection while providing a snug, comfortable fit. | With decades of experience in the industry, Huggies has earned its place as a trusted manufacturer of reliable diapers that are suitable for a wide range of budgets. The company has also introduced a few eco-friendly products in recent years. | As a celebrity venture, Hello Bello products are very on-trend. The diapers are undeniably cute and contain some sustainable materials, though many parents have been disappointed by their unremarkable absorbency. | Coterie diapers come with a hefty price tag, though the company offers convenient subscription plans. Especially popular for overnight use, these diapers utilize eco-friendly materials that are suitable for sensitive skin. |
How VeryVery Diapers Align with My Parenting Priorities
While every parent is different, I think it's fair to say that our priorities tend to be similar when it comes to choosing the best diapers for our little ones.
My search involved looking for a diaper to keep my baby dry and comfortable that was free from unnecessary additives that might irritate his skin. I sought out diapers known for their softness, durability, and snug fit. I also prioritized products made with eco-friendly materials and sustainable manufacturing processes that still offer good value for the money.
Luckily, I was able to find a diaper brand that met all of these criteria and more by choosing VeryVery.
1. Unparallelled Absorbency and Leak Protection
Many diaper brands claim to be suitable for overnight use, but I have heard plenty of stories from friends about finding their baby wearing a wet diaper in the morning due to leaks.
This has never happened to me with VeryVery diapers. Though not specifically marketed as "overnight diapers," I love knowing that they keep my son dry throughout the night. And because these diapers are so absorbent, we've hardly had any issues with diaper rash or irritation, even when we're traveling and use fewer diapers. Even more amazingly, VeryVery diapers have managed to contain even the biggest messes, which is such a relief when we're out and about.
2. High-Quality Materials and Durable Construction
It would be wrong to praise the absorbency of VeryVery diapers without mentioning their clever design and construction. In addition to having an extra-long and ultra-absorbent core, these diapers use layers of FSC-certified pulp and a sustainable cotton blend. While they do contain some plastic, I have learned that this is necessary for a disposable diaper to work properly, and much of VeryVery's plastic comes from recycled sources.
All of this adds up to a strong, durable diaper made with high-quality materials. Even as we entered the toddler stage and my son became incredibly active, we never had a rip, and the elastic waist and leg areas kept his diaper secure.
3. Soft, Comfortable, and a Good Fit for Every Size
In addition to prioritizing highly absorbent materials, VeryVery ensures that those materials are as soft as possible. I've been amazed at how cushiony these diapers feel, and they never rub or chafe my son's skin, even on hot days spent running around outside.
We've now used four different sizes of VeryVery diapers, and I've been impressed with each one. Unlike some brands that tend to run too large or too small in certain sizes, VeryVery diapers have essentially "grown" with my son and have been an ideal fit at every stage of his development. I just wish that VeryVery made training pants so we could use them during potty training!
I'm not one to care much about how fashionable my baby looks, but I definitely prefer the rainbows, clouds, and sun print on VeryVery to the designs on some of the other diapers we've come across.
4. Environmentally-Friendly Manufacturing
VeryVery's commitment to making eco-friendly disposable diapers is what initially attracted me to the company. Before choosing VeryVery, I conducted my own research, and I'm glad to say that the brand lives up to its reputation.
All of the materials have been chosen to minimize the product's environmental impact, such as FSC-certified paper and sustainable non-GMO cotton. Further underlining the brand's focus on sustainability, VeryVery uses energy from renewable sources to manufacture its diapers.
The company is extremely careful with its use of plastic, which is a serious issue with most disposable diapers. Pleasingly, around 40% of the plastic in VeryVery diapers comes from recycled sources. These diapers use hardly any plastic packaging as well, which is a refreshing departure from the thick plastic bags used by many other brands. All in all, VeryVery's diapers are around 50% more biodegradable than many of its mainstream competitors.
5. Safe and Gentle for Sensitive Skin
Newborn skin is known for being especially sensitive, so it's hard to believe that some companies include additives like dyes, fragrances, lotions, latex, and chlorine in their diapers. You won't find any of that in VeryVery diapers, which are hypoallergenic and safe for even the most sensitive infant skin.
In addition to being free from unwanted extras, VeryVery diapers excel at breathability and absorbency, leading to pleasantly dry baby bottoms. Many VeryVery customers, myself included, have reported that diaper rash is practically nonexistent with these diapers.
6. Premium Diapers That Are Worth the Price
VeryVery makes premium diapers, and they have a price point that reflects their quality. As they're at the higher end of the diaper market, they're more expensive than most mass-market disposable diapers, such as Kirkland diapers and the conventional Huggies or Pampers diapers.
After a bit of research and experimentation, I found that the price was comparable to premium products like Coterie, Dyper, and Honest Company diapers, though I prefer VeryVery. Thanks to their outstanding absorbency and softness, eco-friendly materials and production, and suitability for even the most sensitive skin, VeryVery diapers go above and beyond what you would expect from a "typical" diaper, so I don't mind paying a bit more for them (though I do get free shipping!).
If you're wondering whether VeryVery diapers are worth the price, remember that the company offers a 100% satisfaction guarantee, giving you complete peace of mind if you're unhappy with your purchase.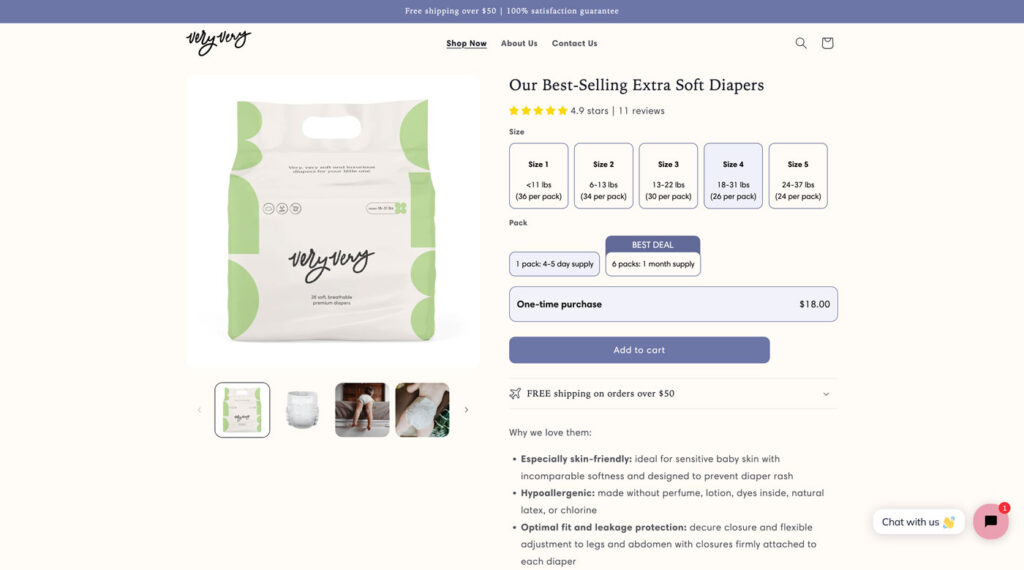 My Family's VeryVery Experience
As all new parents have undoubtedly experienced, everyone wants to give you advice when you're about to have a baby. I know that my friends and family meant well, but by the middle of my pregnancy, I was feeling completely overwhelmed about all the decisions we'd soon have to make.
Long before we'd welcomed our son Evan into the world, I was stressing about what diapers he should wear. Several friends hinted that cloth diapers were the only way to go if I cared about the environment—which I do, of course! One relative even bought me a cloth diaper set as a baby shower gift. But I just knew that cloth diapers and I weren't going to get along. Plus, I didn't love how much water and energy is required when you go down the cloth diaper route.
Luckily, a quick Google search for "sustainable diapers" brought me to an incredible alternative—VeryVery. We've been using VeryVery for diaper changes since shortly after my son was born, and I can confidently say that it was one of the best decisions we made as new parents!
For a well-rounded understanding, it's beneficial to explore other perspectives as well. I found some insightful VeryVery reviews that echo many of my observations and provide additional insights into the brand's offerings. Furthermore, diving into different reviews can offer a broader view. This comprehensive VeryVery diaper reviews page sheds light on various aspects of VeryVery diapers from a different angle, which I found quite enriching.
Final Verdict – Why I'm Sticking with VeryVery Diapers
VeryVery diapers offer the convenience and reassurance that come with premium disposable diapers but with impressively eco-friendly credentials.
Throughout the many months we've been using VeryVery's highly absorbent diapers, I've never had to worry about leaks or blowouts. They've done an incredible job protecting my son's delicate skin from nappy rash and irritation while fitting snugly and comfortably at every stage, from newborn to infant to crawler to toddler.
I love recommending VeryVery diapers to friends who are new parents or expecting, as I know these diapers are especially soft and gentle on sensitive newborn skin. Combined with the company's commitment to sustainable materials and environmentally friendly manufacturing processes, this makes VeryVery baby diapers pretty hard to beat!